"They all live in Berlin, still a city of artists, and the selected works all point indirectly at the repercussions of our current situation." –Thomas Demand
The exhibition local talent curated by Thomas Demand features more than twenty Berlin based artists, from several generations, diverse nationalities and backgrounds. Their works have either been created in the last few months, or they constitute past concepts for future works that resonate with this unprecedented time.
In its depiction of a romanticized sky, Miriam Böhm's Only 1 (2019–20) resonates in our pandemic-tinged era, with allusions to boundless travel and space that is no longer available. The framed photograph with one segment missing is hung over another strip of wallpapered sky, producing a collage effect of an image within another image. The layered, disjointed effect instills a feeling of disquiet in an otherwise seemingly beautiful scene.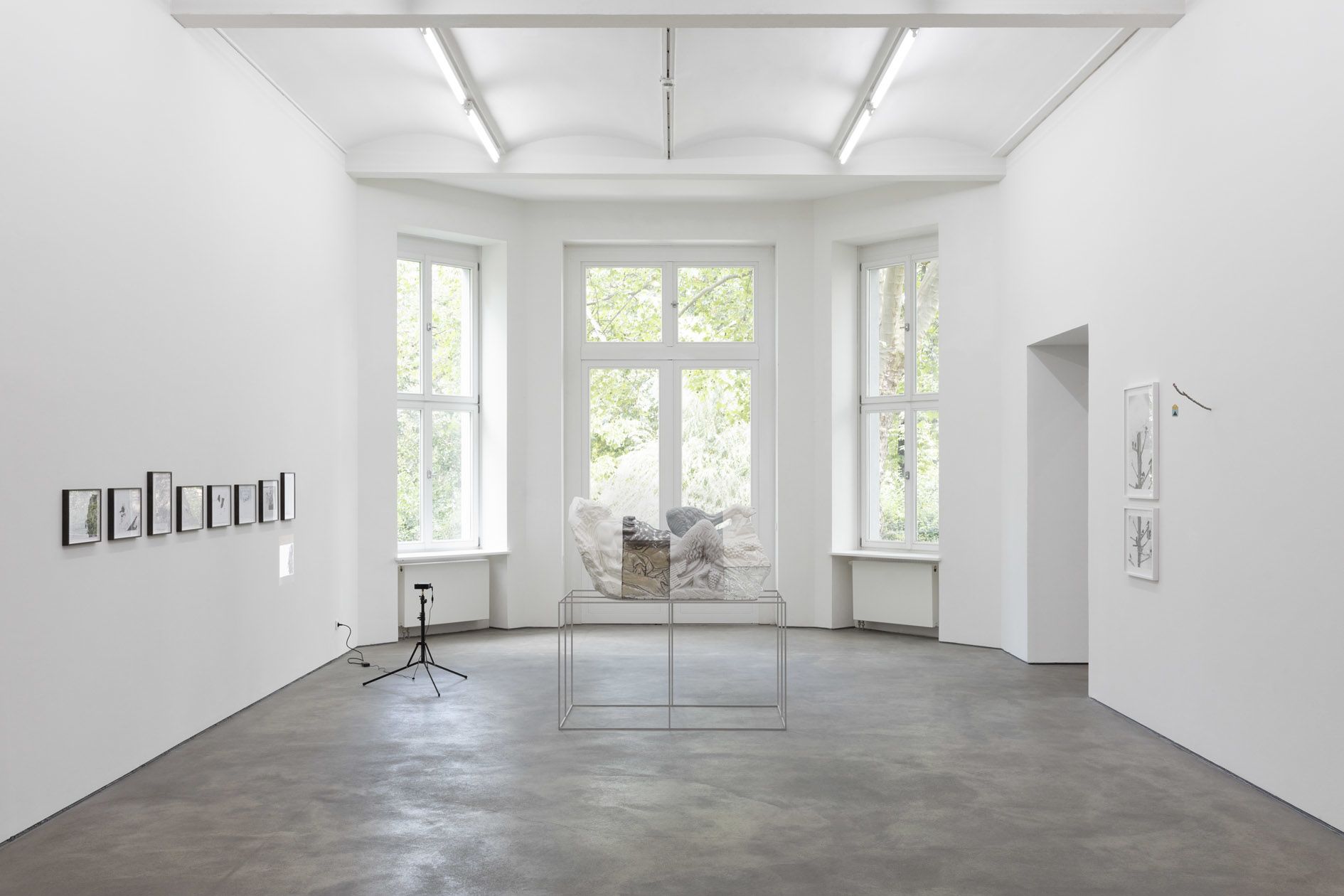 "Each One Silver Dollar Painting  is completed when I photograph  it at Marilyn Monroe's burial site in Westwood, Los Angeles. August 12, 2018 was the only  time  I encountered a Marilyn impersonator there in all my visits, so the first photo is rather special. The back of the mausoleum is just a white wall in a cinema car park, adjacent to the little cemetery, and completely anonymous, which perhaps echoes the recto and verso sides of each tag." – Mathew Hale
Made during lockdown with Mathew Hale in Berlin and Eddie Ruscha in Los Angeles, the series of drawings and video that accompanies them present their beginnings and endings. Appearing somewhat like cells from a storyboard, they display a sense of enjoyment as each artist uncovers what the other has created or added, a product of isolation and a certain aimlessness. Some change format and orientation during their production, while others integrate elements of figuration or text, each with a consistent sense of surprise.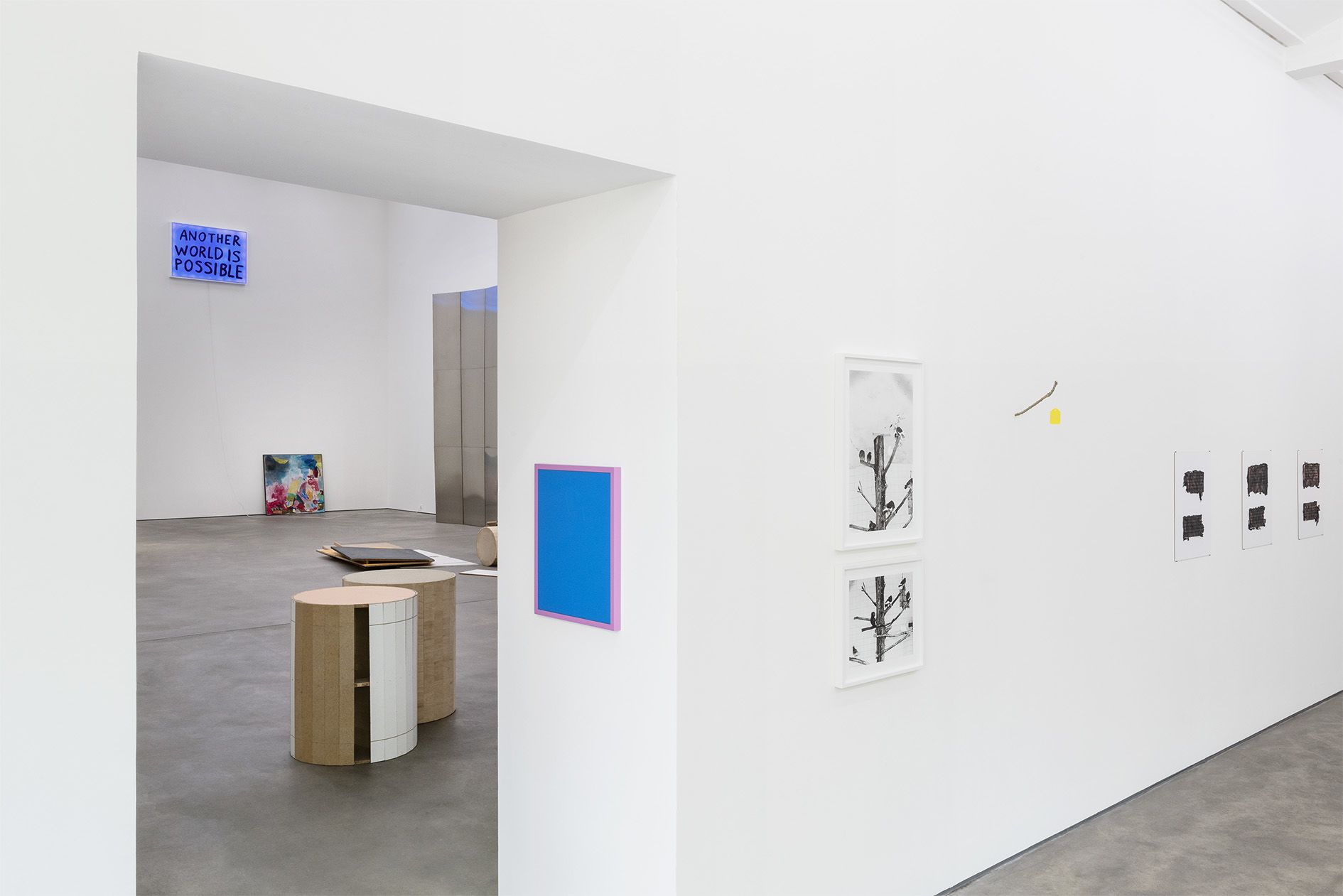 The faint abstract engravings of Gerwald Rockenshaub's works (2020) may refer to studies of nature, while also asserting themselves autonomously as prototypes for unrealized work. Depicting what might be a mountain or a wave, their monochrome surfaces glow from the brightness of their pink frame and support, conveying at once a sense of promise and emptiness.
The reflective aluminum sidings of Thea Djordjadze's Why Hold on to That? (2020) recall both domestic furniture such as room dividers and a wider vocabulary of industrial architecture. Stretching to nearly five meters high, they function as a near-mirrored surface that engages with the rest of the exhibition. The reflects the moment of reconsideration regarding our habitual inventory which has been a common reaction to the solitude of the crisis: Why Hold on to That?
Spread across three locations in the exhibition, Manfred Pernice's Strandgut III (Flotsam III) (1999–2020) makes use of seemingly discarded pieces of material—old cupboard doors and pieces of board, scraps of metal, a still-functioning lightbulb—to interrogate and repurpose the individual histories of each fragment. More meticulously crafted barrel-like structures resemble furniture or containers for something unspecified, alluding further to an unpredictable future. Pernice's proposition to the current situation is to re-evaluate the existing inventory as sufficient and settle with the existing in changing constellations: the sculpture has been shown twice before, but in fundamentally different configurations.
In these photographs of slightly flattened, dead and decaying poppies, Thomas Struth muses on the history of vanitas painting. Titled Orientalischer Mohn (Papaver Orientale), Feldberger Seenlandschaft 1 and 2 (2020), the flowers here are an invasive species. In their forlorn state, the poppies might lose some of their typical references to war or opiates, yet still convey a shock of red against the dark ground. With these images, Struth is insisting on practising even if the artist is bereft of his modes of working.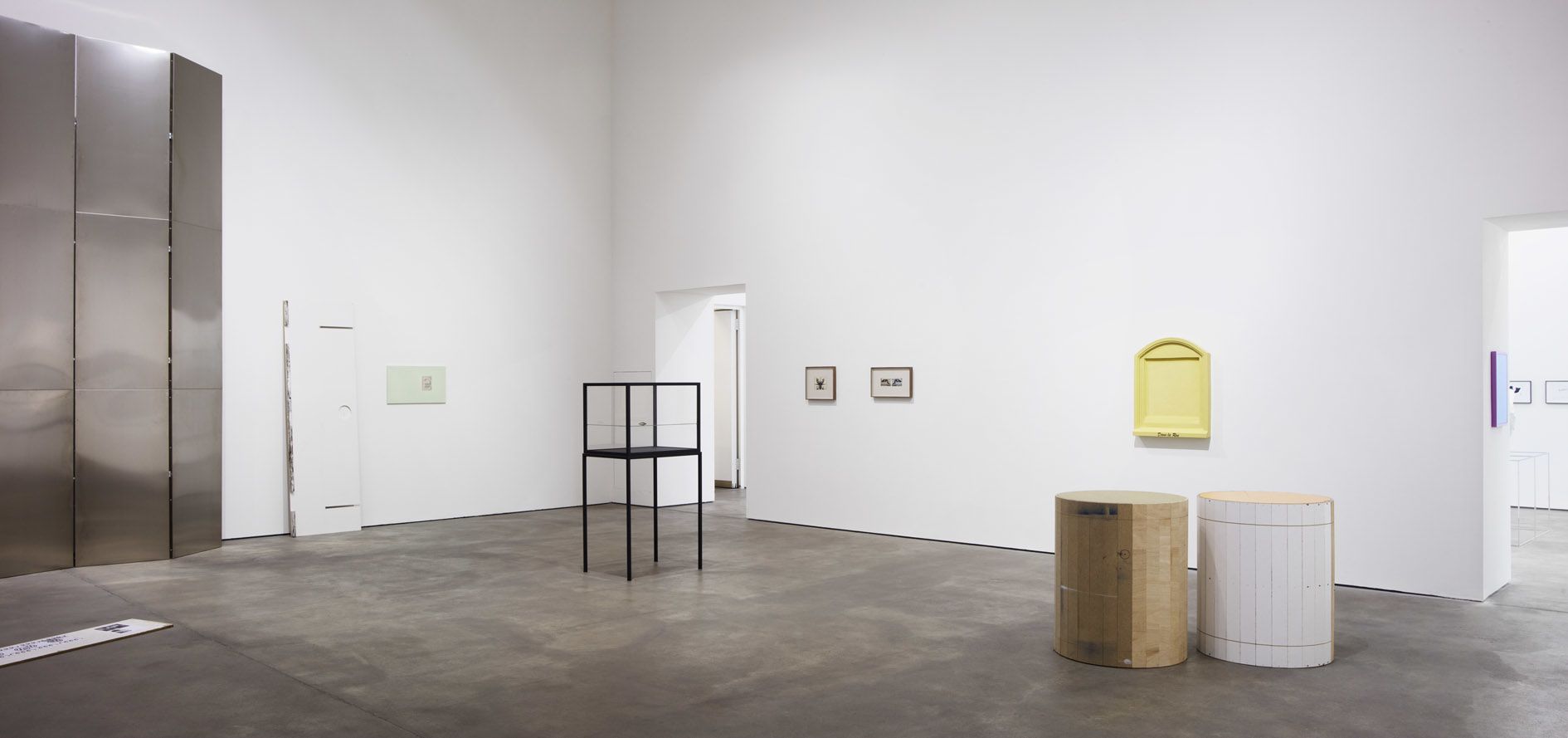 Marieta Chirulescu's two untitled paintings (both 2020) are the result of a complex process of copying and reproducing during which controlled experiments, chance operations, and even errors generate abstract forms, all of which are documented as ink prints on canvas overpainted by hand. While one image hints at an architectural form and the other a portrait, both images are subtle, multifaceted reproductions.
The diptychs A Rakish Pair and Sentinel (both 2020) by Tacita Dean present found postcards alongside mirroring paintings, each painstakingly depicting trees that have grown crooked. The now symmetrical images also resemble Rorschach tests, creating associative, open-ended abstractions from natural forms.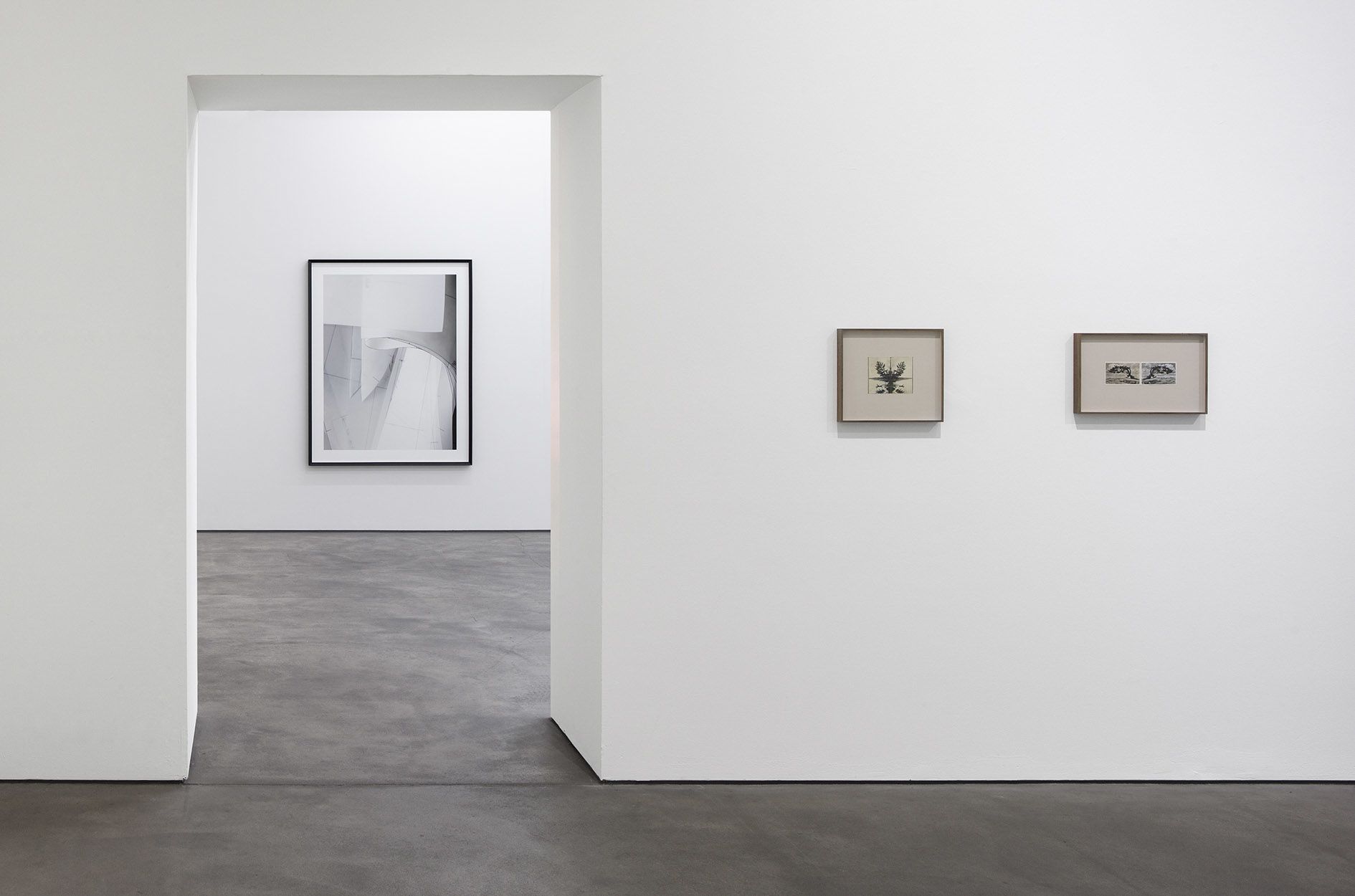 What appears to be an invasive wasps' nest assembled in the corner of the room is on closer inspection in fact a facsimile made from cherry stones. Omer Fast made Cluster #5 (2020) during isolation with his family as the cherry season arrived in early summer. Making use of what was immediately available as a form of occupational therapy, the work forms part of a series that also makes use of discarded packaging materials.
A small, fluttering moth appears to be drowning in a glass bowl of milk, while an adjacent bowl mysteriously echoes the same ripples in the liquid. Titled Ein Maß des Lebens (A Measure of Life) (2019), Akinori Tao's surreal mise-en-scène, placed on a windowsill, underscores the current predicament of being trapped inside, while also making reference to the butterfly effect, which states that a small impulse on one side of the globe can create a massive impact for the rest of it.
Jason Dodge's installation, comprised of various small objects, glass jars, bottles of cosmetic products and general dust and detritus, concerns itself with the violence of mass production and consumption. Referring throughout to what goes into, onto and is shed by the body, the glass receptacles could read the product of hoarding or as canopic jars (used by the Egyptians for the preservation of viscera). With a morbid sense of loss pervading the work, the artist left it purposefully untitled.
In its depiction of an airport terminal, Corinne Wasmuht's large and complex painting DJ ZV (1) titanium dioxide (2020) offers a fragmentary interpretation of the balance between illusory and real space. With the connotations and familiarity of airports recently undergoing considerable change, the work takes on a different contemporary resonance, even more noticeable as the painting was slowly worked on over years to be finished after the topic depicted changed its iconological status.
All installation views by Ingo Kniest and Timo Ohler
Press
In film production, using local talent implies that a cast from the immediate area makes for the most authentic performances. At the same time, the term suggests a limitation of what's available on a particular set. We are all on a limited set at the moment because no one is allowed to travel, and no one can escape the consequences of this withdrawal. What do the participating artists have in common? They all live in Berlin, still a city of artists, and the selected works all point indirectly at the repercussions of our current situation.