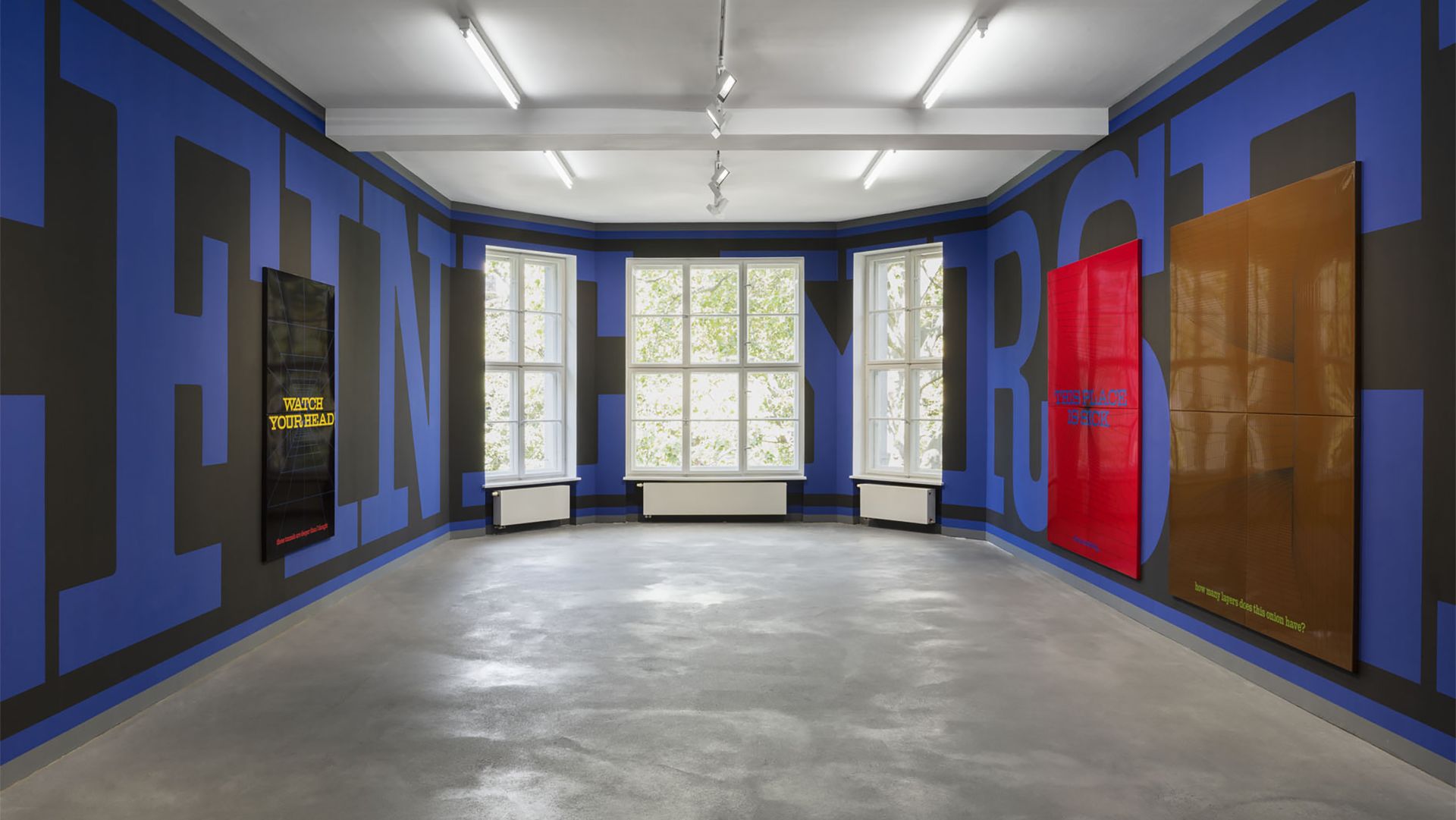 In recent years, Nora Turato has emerged as one of the most exciting new voices on the contemporary art scene.
Throughout her practice – which spans performance, video and graphic design – she examines the ephemeral nature of language, using text as her artistic source material. Drawing from film, advertising, literature, conversations, social media captions and theater, she deploys a collection of appropriated words, sentences, fragments and quotes with sharp wit and studied precision.
Nora Turato's solo exhibition NOT YOUR USUAL SELF? at Sprüth Magers, Berlin, will debut a series of new enamel panels featuring a custom typeface as well as a site-specific wall painting that cut through the cacophony of everyday life and reflect on the vernacular of present-day visual culture and zeitgeist. By combining bold, eye-catching questions such as "NOT YOURSELF?" that evoke the overbearing tone of self-help culture with a lowercase (possibly inner) voice, Turato analyzes our tools for making sense of the world around us.
"I'm using things around me to compose something new. I use it the same as language. It's a lot about sentences, melody, shape, and logo. Single units of creative power, and I am working with those." –Nora Turato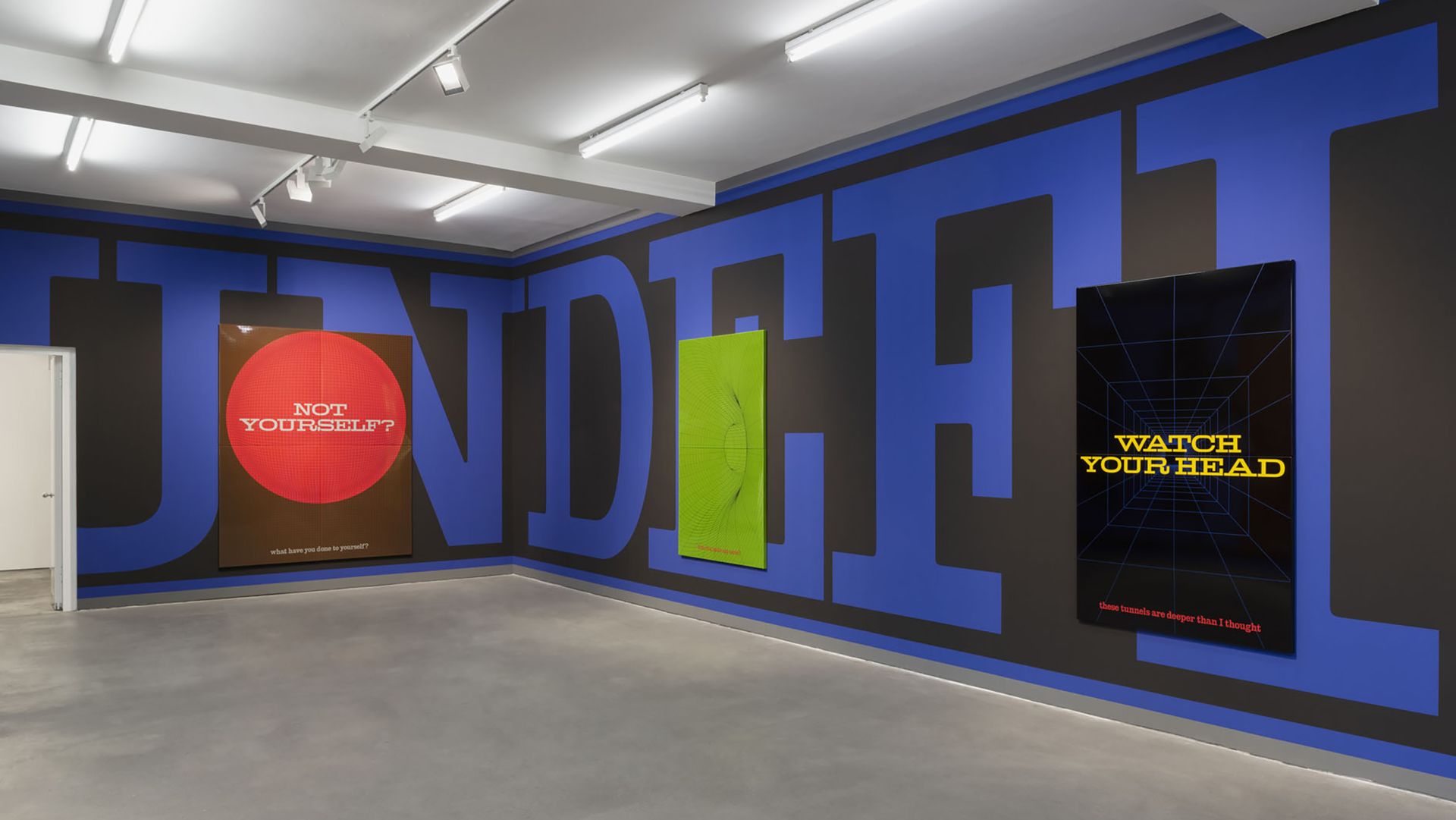 Collating the information streams of the world in text pools, Turato publishes "scrapbooks of our culture" once a year. For her performances, murals and enamel panels alike, she culls from these collections that reflect not only her personal influences and surroundings but also act as seismographs of social preoccupations.
Each of the five multi-part vitreous enamel panels is mounted on steel and demonstrates a sculptural quality. Their phrases are rendered in a serif font, which Turato developed in collaboration with Sam de Groot and Kia Tasbihgou. Reminiscent of 1980s vector graphics, the work's grids depict tunnels with a central vanishing point or round shapes in prime colors. A visual symbol of the decade, the grid is representative of its optimism for technology and a computer-driven society.
The artist's wall paintings amplify the tension between form and content she generates through her slow and deliberate mode of production. Easily confused for digital creations, their meticulous precision is achieved by hand; Turato designs stencil patterns, which are printed on paper, taped to the wall, cut out and then filled with multiple layers of paint.
Nora Turato (*1991, Zagreb) lives and works in Amsterdam. Her newest performance was commissioned by Performa and will premiere in November during the Performa Biennial 2023 in New York. Recent solo exhibitions include Museum of Modern Art, New York (2022), Secession, Vienna (2021), Centre Pompidou, Paris, MGLC: International Centre of Graphic Arts, Ljubljana, and Sammlung Philara, Düsseldorf (all 2020), Serralves Museum of Contemporary Art, Porto (2019), Kunstmuseum Liechtenstein (2019), and Beursschouwburg, Brussels (2019). Her works will be included in a group exhibition at Schinkel Pavillon and Brücke-Museum in Berlin, which opens in September.