Works by Barbara Kruger are unmistakable for their distinct visual language that combines black-and-white found imagery with bold, insistent texts.
Sprüth Magers' first The Work presentation consists of two distinct but inextricably connected works: Kruger's unique gelatin silver print Untitled (Who is free to choose?) (1990), and the intimate collage, made in 1989, that she created to generate the final iconic work. With its signature red frame, alluring imagery and direct text, the large-scale work encapsulates Kruger's celebrated aesthetic. It also represents a crucial nexus of concerns long associated with the artist's work, including mass media culture, women's rights and the persistent questioning of existing power structures.
The corresponding collage illustrates the process that Kruger used in the 1980s and 1990s to produce her photographic works: atop an image culled from a magazine or manual, the artist adhered a fragment of typed text, then made a negative of this "paste-up" in order to realize the enlarged final work. Both Kruger's visual strategies and her process reveal the influence of her early years as a graphic designer, as well as her ongoing conceptual exploration into the entwined mechanisms through which language and image construct meaning.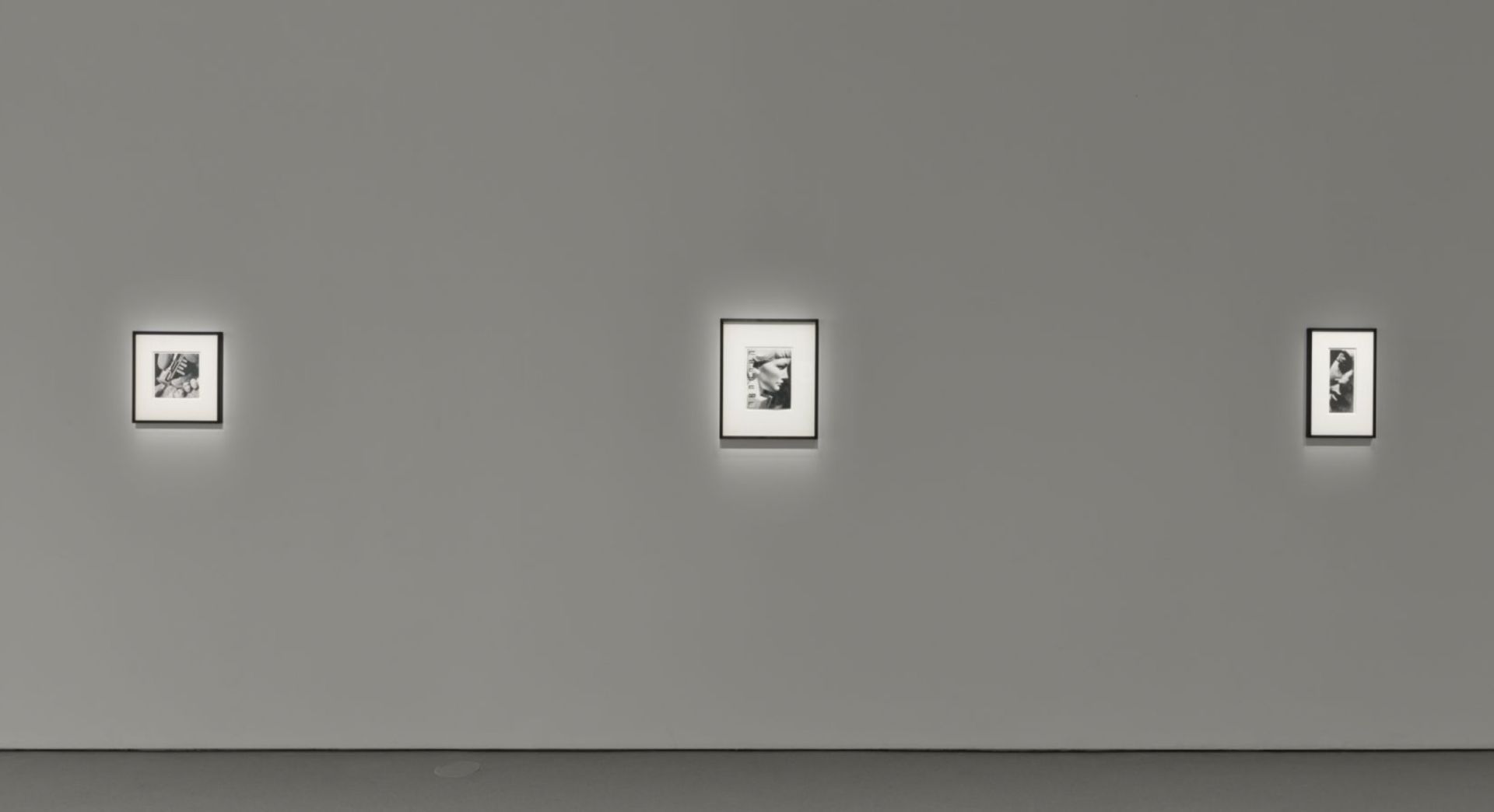 "I feel that there are many of us who are working to make certain displacements, certain changes, who are invested in questions rather than the surety of knowledge." —Barbara Kruger, 1991
This particular question likely first appeared in Kruger's work in an essay she published in Artforum in September 1989, in which she wrote of the complacency of television viewing, and the dulling of thought and criticality that it induces. In contrast, "Thought might raise messy questions. We might have to think about histories, about subtleties, about agendas, about accountability. . . We might have to ask questions like: Who is beyond the law? Who is bought and sold? Who is free to choose?" Since then, the artist has repeatedly returned to this phrase across many of her projects and in many mediums, including vinyl wall works, photo-engravings, room wraps and public projects such as MOCA's.
"I work with pictures and words because I think they have the ability to tell us and remind us where we've come from and where we're going." – Barbara Kruger, 2020
Untitled (Who is free to choose?), in its incarnation as paste-up and as large unique print, encapsulates the restless, remarkable nature of Barbara Kruger's decades-long practice. It also foregrounds a subject—freedom of choice in the direction of one's life—that could not be more relevant today in the face of continual political upheavals and cultural battles. Questions continue to be a recurring rhetorical device in Kruger's works, including in her recent site-specific mural on the facade of Sprüth Magers, Los Angeles, installed in advance of the 2020 US presidential election. Regardless of one's politics or worldview, Kruger's work pushes us beyond our comfort zones to think critically and empathetically about ourselves, others and the world around us.
Barbara Kruger (*1945, Newark, NJ) lives and works in Los Angeles and New York. Solo shows include AMOREPACIFIC Museum of Art, Seoul (2019), National Gallery of Art, Washington (2016), High Line Art, New York (2016), Modern Art Oxford (2014), Kunsthaus Bregenz (2013), Pinakothek der Moderne, Munich (2011), Schirn Kunsthalle, Frankfurt (2010), Gallery of Modern Art, Glasgow (2005), Whitney Museum of American Art, New York (2000), and Museum of Contemporary Art, Los Angeles (1999). Group shows include those at Hamburger Bahnhof (2018), V-A-C Foundation, Palazzo delle Zattere, Venice (2017), Hammer Museum, Los Angeles (2014), Biennale of Sydney (2014), Museum Ludwig, Cologne (2013), Stedelijk Museum, Amsterdam (2010), and Museum of Modern Art, New York (2010, 2009, 2007). In 2021, a major survey of Kruger's work will open at the Art Institute of Chicago and subsequently travel to the Museum of Modern Art, New York, and the Los Angeles County Museum of Art.